ABSOLUTE
AUCTION
SATURDAY, FEBRUARY 18, 2017
REAL ESTATE SELLS AT 10:00 A.M.
PREVIEW DATE: SATURDAY, FEB. 4, 2017
11:00 A.M. TO 1:00 P.M.
Location: 9683 Sisterville Road, Hamersville, OH 45130. Auction signs posted.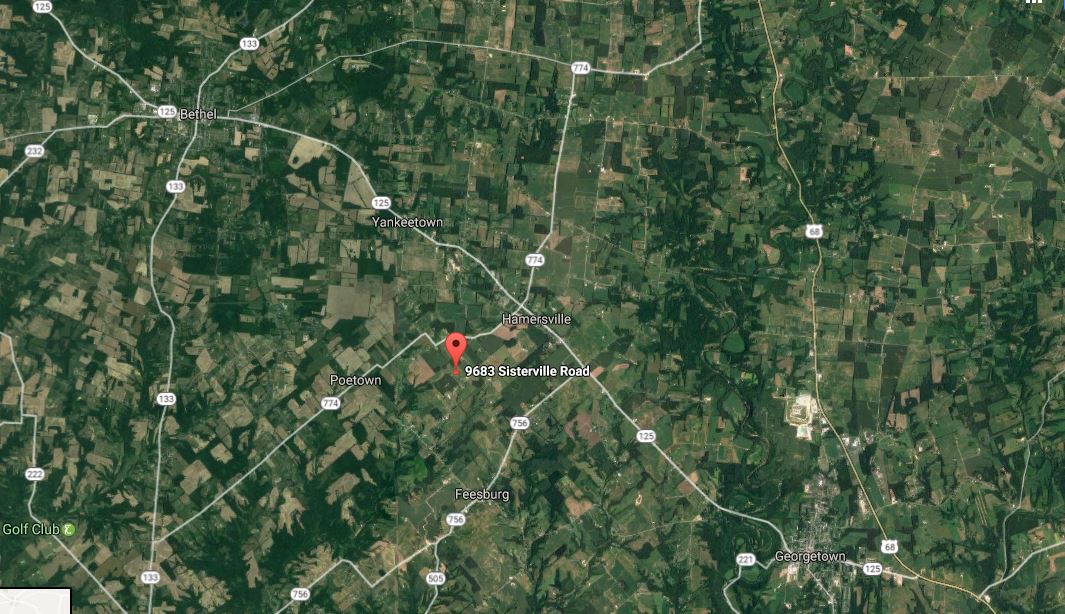 REAL ESTATE SELLS AT 10:00 A.M.
TRACT I consists of 45.265 +/- acres, of which approximately 38 acres are tillable and some woods. This tract has approximately 399 ft. of frontage on Sisterville Road.
TRACT III consists of 1.242 +- acres with house & detached garage. The log home is approx. 1,400 sq. ft. with spacious living room, eat-in kitchen, two bedrooms and one full bath. The home offers poplar hardwood floors, cathedral ceilings, central air, electric furnace, covered wraparound porch, blacktop driveway and 24' x 28' detached two car garage.
Real Estate will be offered in individual tracts and then offered in a combined entirety, whichever produces the highest selling price
NOTE: All tracts are being sold subject to CAUV and FSA rules/regulations. Buyer will be responsible for CAUV Recoupment if not retained in the CAUV Program.
TRACTORS - VEHICLES - EQUIPMENT - TOOLS
VEHICLES: 1973 Volkswagen Beetle, 2004 Dodge Dakota 4' x 4' w/133K miles, 2005 Dodge Daytona RAM 1500 w/5.7 HEMI & 82K miles, 2016 Dodge Ram 1500 w/5.7 HEMI V8, 8 speed transmission & 1,620 miles, 1977 Corvette T-top 4 speed w/83K miles, 2009 Cadillac DTS w/Northstar V8 & 70K miles. NOTE: 1 owner on all three trucks & all vehicles owned by a non-smoker
TRACTORS, MOWERS & ATV: Oliver 1465 diesel with 3,239 actual hours, John Deere 500C Backhoe 4 cyl diesel w/7 ft. bucket & 2 ft. bucket on rear, John Deere MT tractor, John Deere 40 standard tractor 2 cyl w/3pt. hitch, Farmall Super M, John Deere 112 riding mower, John Deere 190C automatic riding mower w/54" deck, Two Ford 600 tractors, Craftsman's 14hp riding lawn mower, Honda Recon 250 ATV 5 speed 2-wheel drive, 2012 Shandoing child's four wheeler
EQUIPMENT, TOOLS & MISC: 2 row cultivator for John Deere MT, #2 dinner bell, #3 dinner bell, two tobacco bale boxes, stick press, 13 ft. Oliver disc, horse drawn cultivator, 5 ft. pull type bush hog, two snap on dual tires 16-9-34, two John Deere rims w/tires 16-9-26, 3 pt. boom pole, 6 ft. 3 pt. bush hog, chipper/shredder, 1 row tobacco setter, crosscut saw, tobacco sticks, 5 ft. 3 pt. bush hog, air compressor, barn rails, 3pt. hitch 1 row plow, tractor parts, misc. lumber, cables, straps, chain hoist, electric 300 gal. fuel tank, 150 gal. fuel tank, socket sets, log chains, gates, 18" backhoe bucket, 1' backhoe bucket, floor jack, drill press, single trees, power wheelchair, Craftsman tool box, Craftsman 5hp roto tiller, 16 ft. flatbed wagon, Troy Bilt portable generator, portable heaters, snow blade, Barnett Cross Bow, 2 Craftsman miter saws, mounted deer heads, antique scale w/weights, horse collar, misc. dishware, stone jugs, misc. hand tools & much more.
FURNITURE & APPLIANCES: Kitchen table & chairs, gun cabinet, washer, dryer, range, refrigerator, microwave, flat screen TV, 2 deep freezers, couches, end tables, two bedroom suites (queen size beds)
Real Estate Terms: 10% of purchase price (nonrefundable) due day of auction, balance due within 30 days of auction date.
Personal Property Terms: Cash or good check day of auction.
NOTE: Possession of house and land at closing
For more information contact Charlie Ring 937-213-3348,
Chuck Marshall 606-782-0374 or Mike Brown 513-532-9366
SELLER: Harry H. Elliott Jr. Estate, Harry H. Elliott III &
Richard A. Elliott, Co-Executors
Brown County Probate Case 20161216 - C. Nicholas Ring, Attorney
All potential bidders should be aware that the broker/auctioneer will be acting as an agent of the Seller. It is for this reason that the prospective buyers should avail themselves the opportunity to make inspection prior to the auction. Although all information in all advertisements is obtained from sources deemed reliable, the auctioneer/broker and owners make no warranty or guarantee actual or implied as to the accuracy of the information. All announcements day of sale take precedence over all advertisements. Our company is not responsible for accidents.

SALE CONDUCTED BY
Jill C. Ring, Broker
Chuck Marshall, Auctioneer
410 W. Grant Avenue,
Georgetown, OH 45121
Office: 937.378.3800